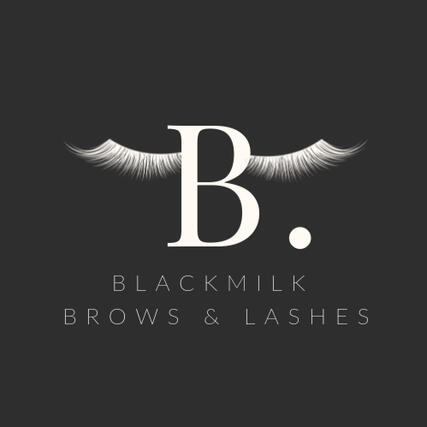 B L A C K M I L K
L A S H E S & B R O W S
---
LASHES | BROWS | SKIN
BLACKMILK Lash Studio was created to provide safe, clean and gorgeous looking lashes tailored to define each and every eye.

Each appointment begins with thorough consultation to achieve the look you desire. Using a professional high-grade massage bed, sessions are accompanied by music, candles and high quality aromatherapy to create a two-in-one relaxing yet beautifying experience.

Find out why BLACKMILK Lash Studio is one of Brisbane's most recommended studios for the fluffiest lashes!



*Government accredited lash extension qualification
AFTERcare
Do not get your eyelashes wet for the first 24 hours.

Do not use a spa, sauna or pool for the first 24 hours. The extensions need that amount of time to properly bond. Avoiding these activities completely may let lashes have less fall-out. 

Avoid pulling or rubbing your eyes.

Do not use eyelash curlers with your extensions. With proper application you will not need them.

Proper hygiene is very important. Please keep lashes clean by washing daily or every second day depending on make-up application.
ONLY use a lash and brow cleanser as normal make-up remover contains oil or glycol. BLACKMILK stocks Australian-made cleansers.

Use the Spoolie given to you during your appointment to gently brush them straight and put them in place. You can purchase a longer life coating to extend the wear of your lash extensions in between fills.

Use only mascaras or serums that are safe for eyelash extensions, no oil-based or waterproof mascaras. Only apply the mascara to the bottom lashes

After showering avoid rubbing lashes, it best to blot them with a soft microfiber towel and let them air dry, BLACKMILK stocks a gentle make-up remover in store.

You can also dry the lashes by using a hair dryer on the cool setting and blowing them dry from the bottom up. It makes them curlier and fluffy.

Use care when applying facial and eye creams to avoid the lash line. Too many oil-based products can break down the adhesive.

BLACKMILK Lashes recommends touch-up appointments before every two weeks to maintain your new eyelash extensions.
---
SEASONAL AFTERCARE
You may face slight retention issues due to seasonal changes. 2 week infills are recommended as retention can be caused by:
0. Allergies
0. Sweat
0. Pools & Beaches
0. Hot weather

Here are some Pro-tips to keep your lashes strong during this season:
0. With eyes closed (not near a mirror) or open (must have a mirror handy) take a mascara wand, bring it directly UNDER the lash line, press it close to the skin gently to where the tips of the bristles are touching the skin of the eyelid, gently move in a SHORT side to side motion, pick up, and repeat across the lash line. This keeps dirty nails from going haywire on your perfect sets! It also keeps clients from causing trauma to their lash follicles from scratching too hard and ripping out lashes with extensions attached.
0. Buy and provide Oil- Blotting Papers to your clients for those extra humid days to keep the lids dry and oils from getting to the lash line.
0. Use BLACKMILK's Australian-made foaming lash and brow cleanser to fight against pool chlorine
0. Use oil-free sunscreen (including glycerin) and use BLACKMILK's lash sealant to protect the bond from dust, pollen, oils, and sweat etc.
Policies
A $40 non-refundable deposit must be made 48 hours from booking your appointment to avoid automatic cancellation. Please do not hesitate to SMS 0422508557 if this is an issue.

You may cancel/reschedule 24 hours prior to your appointment, otherwise you will incur a $40 cancellation or no-show fee.

Lateness will cut into your treatment time, nevertheless we will do our best to fill your lashes

Please arrive with no eye makeup, washing off glue residue and mascara will cut treatment time

Please visit the bathroom if needed prior to appointment to leave time for a full set

Consultation is around 5 minutes - we will discuss your exact desired look and fill in a form. Any time over 5 mins may cut treatment time

If you have pre-existing lashes when booking for a full set, please add a removal to your appointment (you can log back in)